Introducing Training at the New MicroSurvey Center
MicroSurvey Software has opened a state of the art training facility to meet the demands of our customers. MicroSurvey Center is located at our new corporate headquarters location in Kelowna, BC, Canada. The Center has been designed to accommodate 16 students comfortably surrounded by the best technology available.
With its theater like atmosphere, students are fully engaged with the instructor's lesson.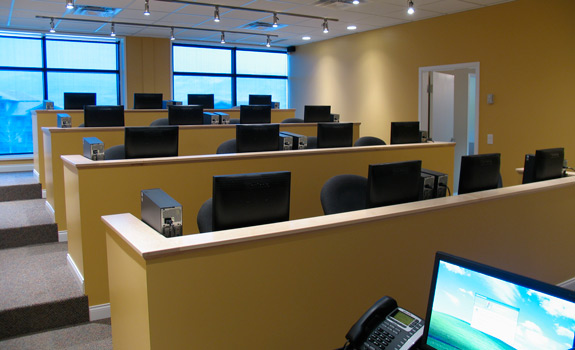 MicroSurvey Center Highlights
Bright open room with theater style step elevated flooring
16 advanced networked computer workstations plus 1 instructor workstation

PCs running choice of Windows Vista or XP
19" LCD Monitors running @ 1280 x 1024 screen resolution
Core 2 Duo processors running @ 2.33 GHz, 3 GB RAM
DVD RW optical drives
Gigabit network with high speed Fiber Optic Internet connection

Advanced classroom software allows instructor's screen to broadcast to LCD projector or to all student workstations simultaneously. Instructor also has the ability to broadcast any 1 chosen student workstation to the entire class.
Secure wireless internet access for laptops and mobile devices
Full color printing/copying/fax and basic bindery services available on site
Built in Dolby Digital surround audio system, wireless microphone for instructor plus dimmer controlled lighting
Located in brand new professional Building overlooking  2 Eagles Golf Course and Okanagan lake
Coffee machine and water in room
Local Amenities:
100 room Best Western Hotel adjacent to facility (Opening late May)
Many new restaurants within the block
18 hole golf course across the street
Walking distance to new Westbank shopping facilities
Award winning Mission Hill and Quails Gate Winery's 5 minutes away
25 kilometers to Kelowna International Airport
More information at www.okanagancomputerlab.com
Contact Us
For more information call 1-800-668-3312.