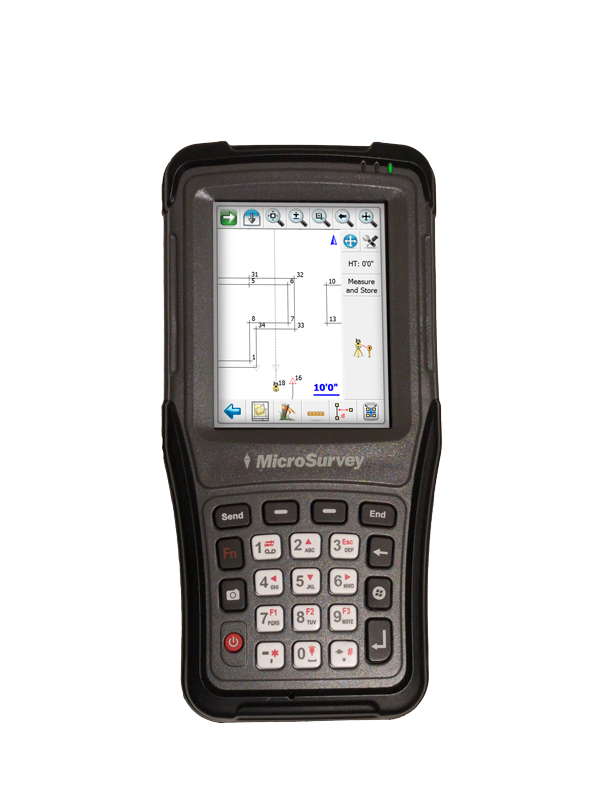 Features & Value: Taken to the Next Level
THE DC6 (Product Currently Not Available)
A reliable and feature-packed data collector, at an astounding price. The DC6 picks up where the DC5 left off; adding a faster processor, a 9-pin serial port, and more storage space.
DELIVER MORE WITH LESS
The DC6 strikes an unprecedented value when it comes to a rugged handheld data collector. This feature-packed device is a simple yet powerful solution to your biggest field data challenges.
WORLD-CLASS SOFTWARE
Your choice of pre-installed software:
FieldGenius - Code-free linework, smart points and live graphics make FieldGenius the choice of any land surveyor that values productivity.
Layout - For the construction layout professional, Layout gives you all the tools you need to layout your points and lines accurately and easily.
Competes with top-of-the-line data collectors, yet at a fraction of the price.
User Interface Display - Full VGA sunlight readable TFT with a 480 x 640 resolution
Keypad - Glove proof alphanumeric keypad Dual customizable shortcut keys
OS - Full blown Windows embedded handheld 6.5 Professional
Instrument Communication Bluetooth® - Class 2 Bluetooth® 2.1 EDR
RS232 - Industrial standard DB9
Office / Cloud Communication WLAN - 802.11 a/b/n
Cellular - 3.75G cellular modem
Five Band UMTS/ HSPA+ (WCDMA/ FDD) - 850/800,900, 1900 and 2100 MHz
Quad-Band GSM - 850/900/1800/1900 MHz USB - High speed USB-OTG port
Storage Internal - 512 MB program memory, 8 GB storage capacity
Micro SD - SDHC supported Micro SD card slot
USB OTG - Mass-Storage device support
System Processor - TI Sitara™ AM335x running at 1Ghz
Battery power - Removable Li-Ion smart battery 3400mAh 7.2V 24.48Wh
Operating time - Up to 10 Hours Navigation
GNSS module - 72 channel uBlox module with raw data output capabilities
Solutions - GPS/QZSS L1 C/A, GLONASS L10F, BeiDou B1, Galileo E1B/C - SBAS L1 C/A: WAAS, EGNOS, MSAS, GAGAN
Update rate - 1 Hz
Accuracy - 2.5 m CEP (Auto.) / 2.0 m CEP (SBAS)
Startup - Cold: 30sec. / Hot: 1sec
Documentation Camera - Auto focus 5MP Dedicated camera key
Physical Dimensions - 192*93*42mm Weight - 575g (Including Battery)
Operating temp. - -30°C to +60°C
Protection class - IP65 dust and waterproof
Humidity - 5 to 95% non-condensing