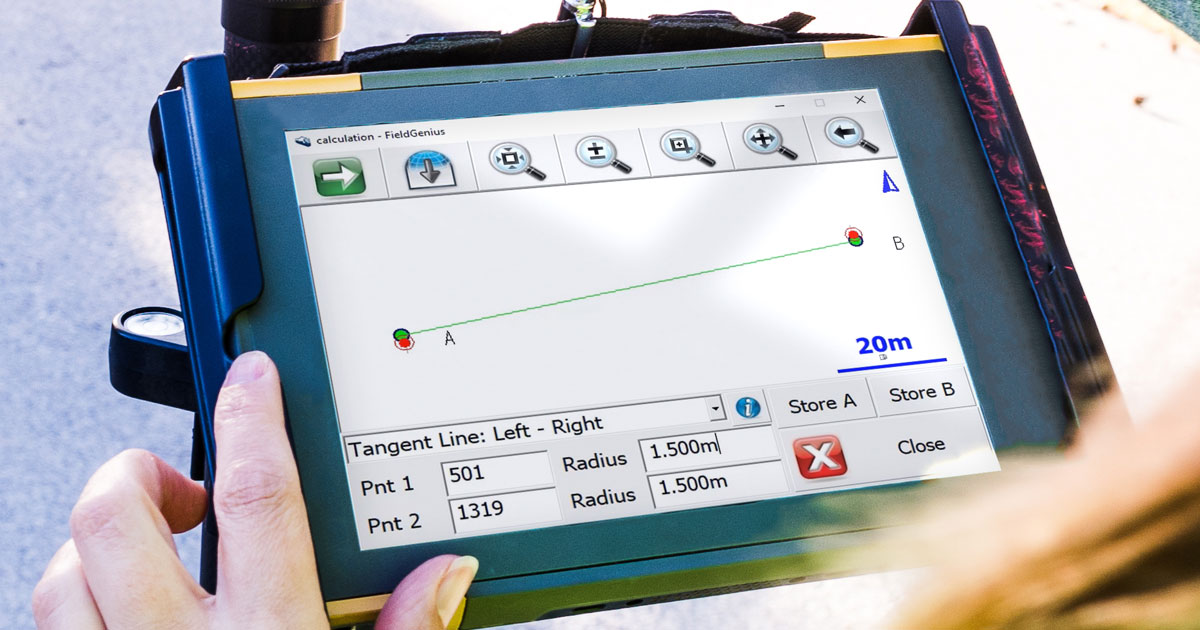 MicroSurvey is pleased to announce to the latest release of their full Featured, brand neutral data collection software, FieldGenius Version 11.
FieldGenius 11 Release Notes
New features include:
The introduction of FieldGenius Basic, an entry level license option to support budget conscious users that require strictly either GNSS or Total Station connectivity and workflow.

FieldGenius v11.0.1 now has support for 2018 direct import .DWG file formats.

We have also added a new tangent to circle COGO calculation which will allow users to calculate a point via a tangent to circle intersection.

Additional pre-defined Coordinate Systems.
Previous defects which have been fixed in FieldGenius Version 11 include:
LandXML Surface Import – Fixed issue where TIN surface models are not preserved on import.

DWG/DXF Import – Resolved issue with coordinates being rounded when importing circle objects.

Tersus Oscar – Fixed an issue with the reference station height routine.

MDOT Cutsheet Report Export – Fixed an issue with offset values in the cut sheet report.

Local Transformation – Resolved issue when having a RTS transformation applied along with a local transformation no longer reverts the RTS transformation parameters.
Updated Hardware Support
You'll find a variety of new GPS drivers and updated existing drivers supporting new functionality:
Stonex S980A - Added New Driver

CHC i73 – Added New Driver

Pentax G7 – Added New Driver

Pentax G6J2 – Added New Driver

E-Survey E-500 – Added New Driver

GeoMax Zenith 40 – Added Terrastar Support

GeoMax Zenith 35 – RINEX 2 Raw Data Logging Support

Tersus Oscar - Add support for CMR or RTD Correction Format When Configuring Reference Station

E-Survey E3 - Added New Driver
All FieldGenius installations will allow you to run the program in evaluation mode. A License upgrade is required if you own FieldGenius 10 or older without a maintenance plan, or your license has a maintenance expiry date prior to April 26, 2021.
A Software Serial Number (SSN) or Globally Unique ID (GUID) is issued when you purchase the software. Online registration is available to register your device with your SSN/GUID. Please click here to go to our Licensing Instructions page and learn how to license your software.
Those wishing to purchase the upgrade, can purchase through MicroSurvey, any authorized dealer or OEM partner. If you wish to discuss product feedback or requests, you can do so through the same channels.
For those of you who are interested in checking out the latest updates, you can request a demo here.
For the latest information, guides, and tutorials on FieldGenius and FieldGenius Android, please check out our YouTube channel.
We've got some cool new things happening in the upcoming release of FieldGenius For Android™ Version 1.9 , watch for that upcoming release in May 2021.
Thank you for your continued interest and support for MicroSurvey FieldGenius products.
Subscribe To Our YouTube Channel And Receive $100 Off Your Upgrade To FieldGenius 11. 
After you subscribe, call your technical sales representative below to place an order.